India says it does not have Jinnah's 1947 speech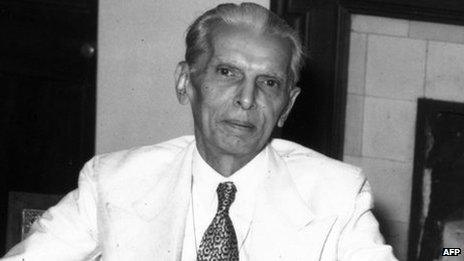 The state-run All India Radio (AIR) has told the BBC that it does not have any recordings of the 1947 speech by Pakistan's founder Muhammad Ali Jinnah.
Pakistan's state-run broadcaster asked AIR for the historic speech in which Jinnah had said people could follow any religion without state interference.
Jinnah had addressed the Constituent Assembly on 11 August 1947, three days before the creation of Pakistan.
Pakistani officials said they had first contacted the BBC for the speech.
Murtaza Solangi, the director general of Pakistan Broadcasting Corporation, told Press Trust of India that the British broadcaster was unable to locate it in its extensive archives.
"I had received a call from Pakistan Broadcasting Corporation asking for a recording done on a certain date, but we don't have the tape with us," AIR director general LD Mandloi told the BBC.
"We will inform the Prasar Bharati [Indian government broadcasting authority] and it is up to them to take it forward and inform Pakistan," he said.
Earlier, Mr Solangi had told PTI: "This [Jinnah] speech is very important for people who want to direct the country [Pakistan] to the goal of a modern, pluralistic, democratic state."
In the speech, Jinnah is reported to have said: "You are free; you are free to go to your temples, you are free to go to your mosques or to any other place of worship in this state of Pakistan.
"You may belong to any religion or caste or creed, that has nothing to do with the business of the state."
Mr Solangi says in 1947, radio stations in what is now Pakistan did not have proper recording facilities and hence they do not have a copy of the historic speech.