India prisoner strangled by inmates in Pune jail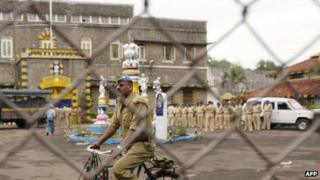 A prisoner accused of involvement in three militant attacks has been strangled to death by two other inmates in an Indian jail, police said.
Mohammad Qateel Siddiqui was killed in Pune city's Yerwada Jail. He was moved to the prison in May.
Police said Mr Siddiqui was a suspected member of the Indian Mujahideen group which has been blamed for dozens of bomb attacks throughout India.
He was arrested in November for three attacks, including one in Pune city.
He was also accused of involvement in blasts in Delhi and Bangalore.
The two prisoners who reportedly killed Mr Siddiqui have been taken into custody and the authorities have ordered an inquiry.
The United States has put the Indian Mujahideen on its list of foreign terrorist organisations, saying that the group was responsible for dozens of bomb attacks throughout India in the last six years.