Nithyananda's Karnataka 'sex scandal centre' is sealed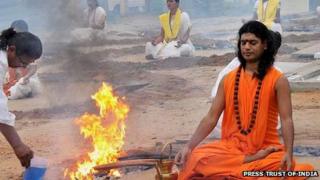 Officials in India's Karnataka state are sealing the sprawling centre of a controversial Hindu holy man who is facing charges of sexual misconduct.
A large number of policemen have been deployed outside the complex of Swami Nithyananda near the city of Bangalore.
On Monday, Karnataka Chief Minister Sadananda Gowda ordered the police to arrest the guru and seal his ashram.
Nithyananda has been absconding since last week when his men allegedly forced a reporter to leave a press conference.
Reports said his devotees were angry when the journalist asked him some "uncomfortable" questions.
The reporter later filed a complaint with the police that he had been intimidated and threatened with life by the swami's devotees.
Nithyananda has denied all the allegations made against him.
At the weekend, Nithyananda's supporters also clashed with activists who say the swami has maligned the reputation of Hindu seers and the state by indulging in alleged illegal activities.
Nithyananda has reportedly fled to neighbouring Tamil Nadu state fearing arrest.
In April 2010, Nithyananda was arrested after a video apparently showed him engaging in a sexual act with a film actress. He said he was innocent and the video was a fake. He was freed on bail two months later.
Nithyananda has a huge following in southern India and his mission has branches in several countries, including the US and Europe.
He is also facing a summons from a US court in connection with a sexual harassment case.