India protest over 'unfair targeting of Muslims'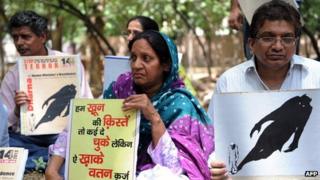 Civil rights activists in India have held a protest against the "unfair targeting of Muslims in the name of fighting terror".
Protest organiser Shabnam Hashmi said scores of Muslim boys and men were being held in jail on false charges.
Muslims no longer felt safe even in their own homes, she said.
The activists had planned a protest outside Home Minister P Chidambaram's house, but they were detained by the police on the way to the venue.
They were later released.
"We are not saying do not arrest those involved in terror activities. But do not pick up everyone. Do not pick up innocents," Ms Hashmi told the BBC.
"Disappearances and illegal detentions have become rampant in the name of fighting terrorism. It is as though a new wave of counter-terrorism has been launched to terrorise the youth belonging to the Muslim community," she said.
Activists blame government agencies for the recent disappearance of a Muslim engineer, Fasih Mohammad, in Saudi Arabia.
In the past too, the community has expressed concern that Muslim boys are picked up randomly and they are "imprisoned, tortured and branded terrorists without a proper investigation".