Indian guru Nithyananda is rearrested after being bailed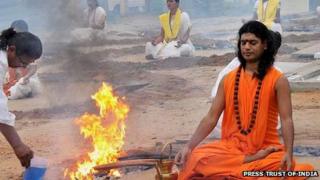 Controversial Indian guru Nithyananda Swami is back in police custody, facing a possible public nuisance charge, after being briefly freed on bail.
The guru was arrested on Wednesday over two claims of assault, and spent a day being questioned by police before a court near Bangalore granted him bail.
But his freedom was short-lived when it ordered his re-arrest hours later.
A video apparently showing him having sex shocked devotees in 2010 - he said it was fake. He denies all the charges.
Nithyananda is due to appear again in the court in Ramanagara, 35km (22 miles) from Bangalore, on Friday.
Following Thursday's bail hearing he had emerged smiling from court and was taken to an undisclosed location by police because of concerns for his safety, reports Habib Beary, a journalist in Bangalore.
But in a dramatic twist, a magistrate later remanded the guru for another day in custody in connection with a separate case of causing public nuisance.
Observers say the guru was visibly shocked as he was escorted to a police van and taken back to jail.
Nithyananda Swami has a huge following in southern India and his mission has branches in several countries, including the US and Europe.
In April 2010, he was arrested after a video apparently showed him engaging in a sexual act with a film actress. He said he was innocent and the video was a fake. He was freed on bail two months later.
He is also facing a summons from a US court in connection with a sexual harassment case.