India Hepatitis E outbreak kills 12 in Maharashtra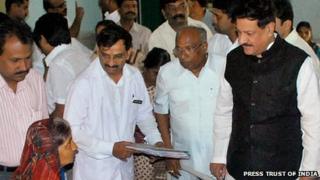 An outbreak of Hepatitis E has killed at least 12 people and left 4,089 others unwell, officials in the western Indian state of Maharashtra said.
The outbreak happened in Ichalkaranji, a city of 300,000 people.
"The cause of the outbreak is contaminated water from the Panchganga river," Dr LS Patil, a senior government doctor in the region, said.
A high-level team of health officials from Pune and Kolhapur is in Ichalkaranji to monitor the situation.
Dr Patil said that sewage and faecal contamination in the water supply could be behind the infection.
Officials say several hundred patients have been treated and discharged since 15 May, while another 200 patients are under medical care in hospitals across the city.
More than 70 pregnant women have also been hit by jaundice so far, they said.