India Paes-Bhupathi row over Olympic tennis team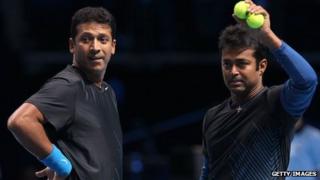 The All India Tennis Association (AITA) is due to meet soon to resolve a row over who will represent the country in the men's tennis doubles at the London Olympics.
AITA wants India's number one, Leander Paes, to team up with his old partner, Mahesh Bhupathi.
But Bhupathi has refused to play with Paes and said he had been training with another Indian player, Rohan Bopanna.
The deadline for announcing the Olympics team is on Thursday.
The AITA is due to meet on Wednesday to finalise the players.
After Bhupathi's refusal to partner Paes, the sports authority had asked Bopanna to team up with Paes.
But Bopanna also declined the invitation.
Leander Paes and Mahesh Bhupathi won three grand slam titles at the pinnacle of their partnership in the late 1990s and early 2000s.
The duo also won the gold medal at the 2002 Asian Games in Busan and were nicknamed the "Indian Express".
A similar row had erupted before the 2008 Beijing Olympics which was resolved with the pair playing together and making it to the quarter-finals.
India's Sports Minister Ajay Maken has suggested that two teams be sent to London to resolve the impasse.