Bollywood's Rajesh Khanna 'not ill', waves at fans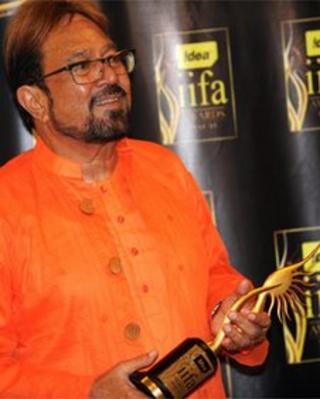 Bollywood's "first superstar" Rajesh Khanna has appeared on the balcony of his Mumbai home to assure his fans that he is not ill, hours after his manager said he had not eaten for a few days.
Accompanied by his actor son-in-law Akshay Kumar, Khanna smiled and waved and made a victory sign.
The actor's manager had earlier said he was ill and being looked after by his estranged wife, actress Dimple Kapadia.
Khanna, 69, was admitted to hospital briefly in April.
He had complained that he felt unwell. The cause of his health problems was unclear.
The veteran actor has starred in more than 160 films, including major hits such as Kati Patang, Aaradhana, Anand and Amar Prem.
"He is unwell, and at home. He has stopped food intake for three to four days. Dimple is continuously by his side and his daughter Rinke also visited him," the Press Trust of India had quoted the actor's manager, Ashwin, as saying earlier on Thursday.
Khanna made his name playing the romantic lead in a string of films which were massive hits in the 1960s and 1970s.
He had a huge following and was mobbed by fans whenever he appeared in public.
During the peak of his popularity, there were reports of his female fans marrying his photographs.
Popularly called "Kaka" by his fans, the actor has won several industry awards. He was recently seen in his first television commercial.