India man sets up museum of rare musical instruments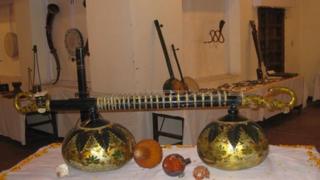 A music lover in India's Rajasthan state has created a private museum at home with a rare collection of more than 600 traditional musical instruments on display.
Abdul Aziz comes from a family of musicians and has dedicated his life to collecting the rare instruments.
But, he says, that with his limited income, he will not be able to look after his treasure for long.
The collection has pieces dating back to the Buddhist and Mughal era.
'Treasure trove'
Every nook and corner of Abdul Aziz's home in Jaipur city is filled with some kind of instrument.
The small house is so overcrowded that some musical instruments are displayed in the bathrooms.
"Many of the instruments in my collection are not seen widely because they went out of fashion, while some are on the verge of extinction," Mr Aziz told the BBC.
''My only dream is to conserve, preserve and display this musical treasure trove," he says.
Santosh Sharma of Jaipur's Trimurti Institute of Art and Culture says "the collection includes a wide variety of musical instruments".
"Most interesting in the collection are a tabla and a bayan - types of drums - that are made from cloth instead of leather."
Says Mr Sharma: "They come from a time when Brahmins (high-caste Hindu priests) played the tabla which had to be made from cloth as they did not like to touch leather. Leather instruments were promoted during the Mughal era."
But, Mr Aziz says that space crunch and a lack of funding are threatening his collection.
"We live in a joint family and I share this house with my brothers and their families. I've used the space belonging to my brothers to store the instruments, but now they are all reluctant to look after them," he adds.
Mr Aziz says unless the government gives him a plot of land to set up a small museum, he may not be able to look after the instruments for long.
The collection includes an Afghani rebab and a Ruhani rebab - plucked string instruments found only in Kabul and Kashmir.