India names two Olympic men's tennis teams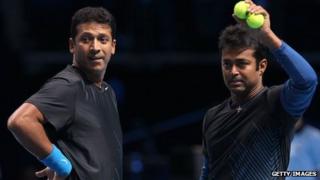 The All India Tennis Association (AITA) has decided to send two men's doubles teams to compete in the 2012 Olympics.
Leander Paes would pair with Vishnu Vardhan while Mahesh Bhupathi and Rohan Bopanna would make the second team, AITA president Anil Khanna said.
The decision follows a public row among the players over their partnerships.
Both Bhupathi and Bopanna had refused to play with Paes who, in turn, said he would not play at all if Bhupathi and Bopanna were sent as a team.
Leander Paes will also partner India's top female player Sania Mirza in the mixed doubles, the AITA announced.
Bhupathi and Bopanna said they were "delighted with the decision" but is was not yet known if Paes - India's number one and world number 7 - had accepted the AITA decision.
Mr Khanna has appealed to Paes "to accept this decision [to play in the Olympics] in the interest of the nation".
Originally, the AITA had asked Mahesh Bhupathi to partner Leander Paes.
After Bhupathi's refusal to partner Paes, the sports authority asked Bopanna who also declined the invitation.
Leander Paes and Mahesh Bhupathi won three grand slam titles at the pinnacle of their partnership in the late 1990s and early 2000s.
The deadline for announcing the Olympics team is on Thursday evening.