Can India escape from poverty through sustainability?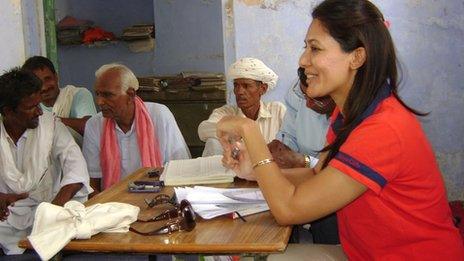 At the recent Rio+20 summit, India was one of the key nations pushing for a new approach of sustainable development. Delhi says it wants poverty to be tackled through policies that protect natural resources and use local knowledge. The BBC's Sanjoy Majumder travels to Rajasthan to see how India is putting this to use and whether it's helping it tackle poverty.
A village council meeting is underway in Soda, in the western Indian state of Rajasthan.
The villagers are seated on the floor inside the council office, the men dressed in white and wearing turbans and the women in bright, colourful saris, with their heads covered.
Seated across them is a young woman dressed in a t-shirt and cargo pants, listening intently as the villagers list out their complaints.
Chhavi Rajawat looks like she would be more comfortable in the city but is actually the head of the village council.
Armed with a business management degree, she was elected to the post two years ago and has been tackling the village's most pressing problems.
"My approach is bottom up rather than top down," she says.
"The villagers have a lot of knowledge and ideas. What they need is support."
Soda is one of India's poorest regions, a bleak, barren land with so little water that not much grows here.
But there are signs of development - freshly laid roads, a drainage system, a bank that opened a year ago.
It is not prosperous by any yardstick but the villagers say that a lot has changed recently.
"We now have two reservoirs to collect rainwater during the monsoon which we can then use for the rest of the year," says Govardhan, a farmer.
"Fifty years after independence, we still had no electricity. But we now use solar energy to light up our homes."
Shanti Devi, a young woman in her twenties, shows me the newly built toilet in her home.
"Earlier we would have to go out in the fields. It was a huge problem during the monsoon, specially for the children," she says.
Private firms' public role
Most of the projects are funded by the government. In the past few years, the federal government has spent billions of dollars on massive welfare programmes aimed at tackling poverty.
But private industry is playing a role as well.
In the village school, Puneet Trehan is teaching mathematical logic to a group of young villagers.
Mr Trehan works for Tata Consultancy Services, one of India's top IT companies.
"With the opening of the IT services sector, the opportunities have grown manifold," he says.
"The objective is to arm them with skills which will help them crack the competitive aptitude test which is the basic requirement for every single job in the market today, be it in government or in the private sector."
Ms Rajawat says she has had mixed success in attracting private companies to Soda.
"Many of them still think that putting money in rural India is essentially charity. But I tell them that they will get a return on their investment - not a lot or not immediately, but eventually."
She argues that the villagers are willing to pay for services that they see as beneficial. So the residents of Soda pay for being supplied water from the newly built reservoir and for electricity generated through their solar energy panels.
India's recent economic boom has helped generate both money and enterprise which is helping lift some of its billion-strong population out of poverty.
But not everyone believes that economic growth is enough.
"The problem is that we've had 15-20 years of high growth without generating enough employment," says economist Jayati Ghosh.
"So it's not been inclusive. We haven't really done what we could have."
So there is a growing sense here that the way ahead is for India to promote sustainable development - with local solutions to local problems.
At the same time, many believe it is important to set globally-backed targets for the government to force it to make tackling poverty a priority.