Mahi Upadhyay: Outrage over Indian well death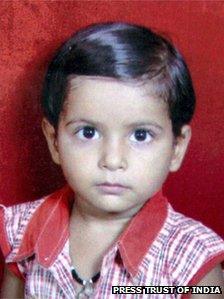 There has been outrage in India over the death of a four-year-old girl who fell into an uncovered 70-foot (21-metre) well in the state of Haryana.
Rescue workers recovered the body of Mahi Upadhyay on Sunday afternoon after a four-day operation involving nearly 100 people.
Digging bore wells without permission from the authorities is illegal in Gurgaon, where the incident took place.
Hours after Mahi was pulled out a boy fell into a well in West Bengal state.
The body of Roshan Mondal, 17, was finally pulled out of the well late on Sunday.
There have been calls for more stringent regulation to stop illegal digging of bore wells in what is a water-scarce region.
The operation to save Mahi, who fell into the well last Wednesday, gripped the nation's media.
It was televised live by news channels and people offered prayers for her survival. Soldiers, engineers, doctors and local residents were involved in the rescue effort.
Heavy machinery was used to dig a parallel shaft to the well and oxygen was pumped into the well in an attempt to keep the girl alive.
However, her body was taken out on Sunday afternoon and taken to a local hospital where doctors declared her dead.
The police is looking for a local villager who allegedly dug the bore well without permission.
"Yet again, an innocent life has been lost because of callous neglect on the part of some and the failure of the authorities to enforce the law," The Times of India newspaper said.
"How many more children need to die for the authorities to take action and issue guidelines and rules which deal with covering these wells?" asked a comment in The Hindu newspaper.