India minister Virbhadra Singh quits over corruption charge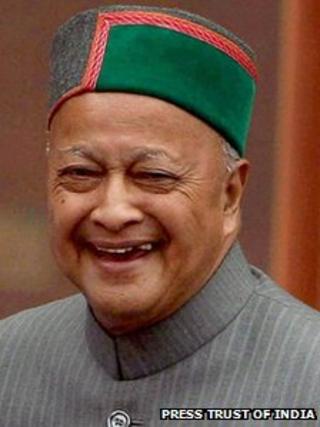 India's Minister for Small, Micro and Medium Industries Virbhadra Singh has resigned a day after a court charged him in a corruption case.
Mr Singh and his wife are accused of conspiracy and corruption in a 23-year-old case. They have been charged with "bribery and criminal misconduct".
The couple deny the charges. Mr Singh said he quit on "moral grounds".
A senior member of the ruling Congress party, he has been chief minister of Himachal Pradesh state five times.
Mr Singh met Prime Minister Manmohan Singh on Tuesday afternoon and submitted his resignation.
The case against Mr Singh dates back to 1989 during one of his spells as chief minister of Himachal Pradesh.
A court in Shimla framed charges against him on Monday on the basis of "evidence provided in a CD".
Mr Singh said the case against him was "totally fabricated" by the opposition Bharatiya Janata Party government in the state which was "after my blood".
"The evidence is concocted. The CD has not been authenticated. They have not compared my voice," he said.