India's Sania Mirza: I was used as a bait in player row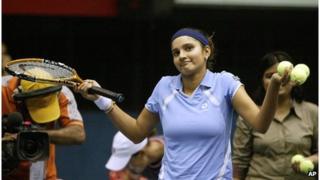 Indian tennis star Sania Mirza has blamed tennis authorities for using her as "bait" in a row among the players.
Moments after winning a wild card entry for the Olympics, Mirza said she was ready to partner Leander Paes in the mixed doubles as announced by the All India Tennis Association (AITA).
Last week, AITA decided to send two men's doubles teams to compete in the 2012 Olympics.
The decision followed a public row among the players over partnerships.
Leander Paes would pair with Vishnu Vardhan while Mahesh Bhupathi and Rohan Bopanna would make the second team, AITA announced.
Both Bhupathi and Bopanna had refused to play with Paes who, in turn, said he would not play at all if Bhupathi and Bopanna were sent as a team.
The tennis association also announced that Leander Paes would partner Mirza, India's top female player, in the mixed doubles.
"As an Indian woman belonging to the 21st century, what I find disillusioning is the humiliating manner in which I was put up as a bait to try and pacify one of the disgruntled stalwarts of Indian tennis," Mirza said in a statement in an apparent reference to Paes.
The 25-year-old player also criticised the way she was "offered in compensation to partner one of the feuding champions purely in order to lure him into accepting to play with a men's player he does not wish to play with".
"This kind of blatant humiliation of Indian womanhood needs to be condemned even if it comes from the highest controlling body of tennis in our country," she added.