Hundreds of sheep 'crushed' under speeding India train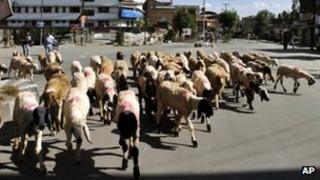 A speeding train has crushed to death at least 350 sheep in the southern Indian state of Andhra Pradesh, police say.
A forest department official told the BBC that the herd was crossing the rail tracks at night in a remote area in Srikakulam district.
Local people say the sheep panicked and ran towards the tracks when a leopard attacked them.
The authorities deny this and say it is an attempt to claim bogus compensation.
Cattle owners can claim compensation if their animals are attacked or killed by a wild animal. But, there is no compensation for cattle killed on rail tracks.
Cat and the sheep
A dead wild cat has also been recovered from the tracks but the authorities say it is a mere coincidence that the animal got crushed along with the sheep.
"The wild cat came to eat the dead sheep and got crushed by another train," forest official Arun Prakash told the BBC.
He said the cat was "very small" and could not have attacked the sheep.
A post-mortem of the dead predator has revealed that it had consumed some sheep meat.
State government officials say the sheep belonged to six families and they have suffered a loss of about 2m rupees ($35,207; £22,630).
Every year scores of domestic animals get killed under speeding vehicles and trains in India.