India tennis star Leander Paes 'disheartened' by row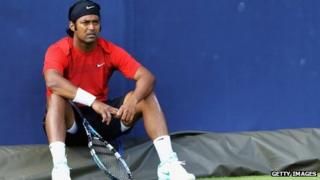 Leander Paes, India's number one tennis player, has said he was "disheartened" by the recent row over the selection of teams for London Olympics.
But it had not dampened his enthusiasm about "representing India", he said.
Paes was paired with a lower-ranked Vishnu Vardhan in men's doubles after senior players Mahesh Bhupathi and Rohan Bopanna refused to partner him.
To pacify him, the tennis association partnered him with top female player Sania Mirza in the mixed doubles.
On Tuesday, Mirza criticised the All India Tennis Association (AITA) for using her as "bait" in a row among the players.
AITA has also announced that Mahesh Bhupathi and Rohan Bopanna would make the second team at the Olympics.
"I am looking forward to representing my country with the teams that the All India Tennis Association have selected," Press Trust of India quoted Paes as saying.
"I am here to play sport and not politics," Paes said on Thursday.
"Unfortunately, I see the games being played within games, and as much as that is very disheartening, I am looking forward to playing my sixth Olympics for my country as I have played for 22 years for the people and the flag," he said.
The public row among the players over their partnerships has embarrassed AITA.
Originally, the AITA had asked Mahesh Bhupathi to partner Leander Paes.
After Bhupathi's refusal to partner Paes, the sports authority asked Bopanna who also declined the invitation.
After both Bhupathi and Bopanna had refused to play with Paes, he said he would not play at all if Bhupathi and Bopanna were sent as a team.
Leander Paes and Mahesh Bhupathi won three grand slam titles at the pinnacle of their partnership in the late 1990s and early 2000s.