Are the Gandhi-Kallenbach letters headed home?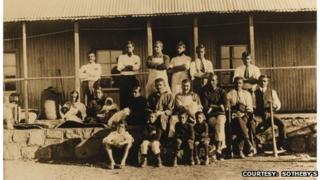 "He is more than an acolyte, less than an equal", wrote Pulitzer-winning author Joseph Lelyveld of Hermann Kallenbach, a Jewish architect of Lithuanian background, who struck a deep friendship with Mahatma Gandhi during his time in South Africa.
In Great Soul: Mahatma Gandhi and His Struggle With India, Mr Lelyveld describes the relationship between the men as "the most intimate, also ambiguous" one of Gandhi's lifetime. This was provocation enough for the government in the leader's native state of Gujarat to ban the book last year.
But it was certainly a curious friendship.
Kallenbach, who was also a gymnast and body builder, sent Gandhi "logical and charming love notes", which the latter destroyed. Using parliamentary phrases, Gandhi described Kallenbach, two years younger to him, as "Lower House", while the latter fondly called his friend, who had a veto on most things, as "Upper House".
Though locals gossiped that Gandhi had left his wife to live with a man, a Gandhian scholar told Mr Lelyveld that their relationship was "homoerotic" rather than homosexual. Kallenbach, in fact, wrote to his brother in Germany in 1908 - shortly after moving in with Gandhi - that, following his friend's abstemious ways, he had stopped eating fish and having sex.
'Priceless'
More importantly, Gandhi described Kallenbach as a "man of strong feelings, wide sympathies and childlike sympathy". Mr Lelyveld wrote that the architect's commitment to Gandhian values appeared to be "wholehearted, not selective".
More evidence of this fascinating relationship may soon be finally heading home to India's archives.
Thousands of letters, papers and photographs relating to Gandhi, belonging to the Kallenbach family, are due to be auctioned by Sotheby's in England next Tuesday. The auction house estimates the collection, which is arranged in 18 files, is expected to fetch between £500,000-£700,000 ($777,000-$1.1m).
But a highly placed official in the culture ministry tells me that the government is close to securing a deal with the auction house to buy this archive. This was partly prompted by a report submitted by reputed historians and manuscript experts who visited London recently to examine the selection, and strongly advised the government to bid for it.
One of the team members told me the archive was "very well preserved and of inestimable value". India is possibly paying $1.1 million for the papers, a source tells me.
The selection contains five decades of correspondence, much of it unpublished, between Gandhi and Kallenbach dating between 1905 and 1945.
They talk about legal cases, their mutual interest in Tolstoy, and their time together on a eponymous communal settlement called Tolstoy Farm.
There are references to Gandhi's early political campaigns and his relationship with and the illness of his wife, Kasturba: "I no longer want to be angry with her so she is sweet."/"She had a few grapes today but she is suffering again. It seems to be me she is gradually sinking".
There is insight into Gandhi's preparations for his return to India: "I do all my writing squatting on the ground and eat invariably with my fingers. I don't want to look awkward in India".
Kallenbach's letters talk about his growing concern about the spread of Nazism and the plight of Jews in Europe.
There are also letters by Gandhi's sons and cousins, writer and Tolstoy translator IF Mayo. There are documents relating to the purchase of Tolstoy Farm, fruit trees, ensuring water supply and even arguments with neighbours over grazing rights.
The selection even contains gifts from Gandhi to Kallenbach: a flag, a khaki cotton scarf, a spinning wheel. The icing on the cake is a collection of 287 priceless pictures, many featuring Gandhi, Kallenbach and his followers.
The archive is a key biographical source for Gandhi, says Gabriel Heaton, Sotheby's deputy director and a specialist in books and manuscripts. And if all goes well, this invaluable piece of India's history will come home - to Delhi's National Archives - later this month. This is excellent news.