India monsoon rains shortfall 'not serious'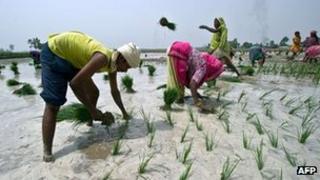 India's monsoon has been deficient so far, but more rains are expected from next week, farm minister Sharad Pawar has said.
Mr Pawar allayed fears of a drought and said that the situation is not "as serious as it is being made out to be".
India receives 80% of its annual rainfall during the summer monsoon between June and September.
A major shortfall in rain can trigger drought, which is potentially ruinous for India's 235 million farmers.
Mr Pawar told reporters that the monsoon has been delayed, leading to a 31% "deficit" in rains so far.
This has affected crops in Rajasthan, Maharashtra and Karnataka.
"Monsoon is delayed by two weeks but the situation is not that serious. But rainfall is expected to be better from next week onwards," Mr Pawar said.
Parts of northern India, including the capital Delhi, have been in the grip of intense heat and there have been severe water shortages as the rains are late.
A good monsoon would be welcome not just to farmers but the government too, as a high farm output will help stabilise surging food prices and spur growth.