Outrage over 'mistreatment' of India female athlete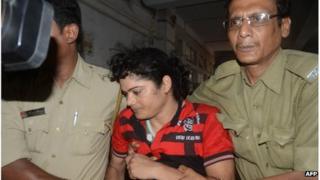 Human rights groups in India have protested against the "mistreatment" of a female athlete arrested on charges of rape and facing claims she is actually male.
They allege that Pinki Pramanik was being treated as a male in custody.
Ms Pramanik was arrested in West Bengal state last month after a complaint of rape from her live-in partner, who is a woman. She denies all the charges.
A court has remanded her in custody and she has undergone a number of inconclusive gender tests.
Mobile phone video of Ms Pramanik undergoing the tests has allegedly been posted on the internet.
'Insensitive'
The Association for the Protection of Democratic Rights has complained over the "gender-insensitive behaviour" of the police and the local administration in dealing with Ms Pramanik.
"She has been in judicial custody for the past three weeks. Therefore, the responsibility for the [recording of the alleged] mobile phone clip rests with the [state] administration," Ranajit Sur, a member of the group was quoted as saying by The Hindu newspaper.
A senior journalist has also filed a complaint with the West Bengal State Women's Commission that Ms Pramanik was being treated as a "male under trial".
"She has been lodged in a male ward in the jail. Whenever she is appearing in the court or going for medical tests, male policemen are practically dragging her," Suvashish Moitra, the complainant, told the BBC.
The police deny the allegation, saying that Ms Pramanik is also being accompanied by women constables.
Ms Pramanik won gold in the 4x400m relay in the 2006 Doha Asiad and a silver in the same event at the 2006 Melbourne Commonwealth Games.
She also won three gold medals in the 2006 SAF Games in Colombo when she won the 400m, 800m and 4x400m relay events.