Air India pilots call off strike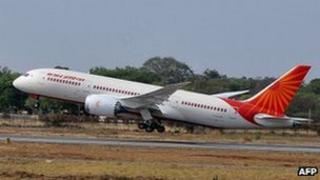 Pilots of national carrier Air India have officially called off their strike after almost two months of protests.
On Tuesday, the pilots told the high court in the capital, Delhi, that they would return to work within 48 hours.
More than 400 pilots had been on strike in a dispute over training to fly the Boeing 787 Dreamliner plane.
Dozens of flights were cancelled because of the strike which continued for 58 days. Reports say the strike has cost more than £100m.
The airline has already sacked 101 pilots and the High Court had earlier ruled the protest illegal.
"We respect the sentiments and order of the high court. We have started the procedure of joining work. We hope that the issues will be sorted in a time-bound manner," NDTV news channel quoted Air India pilot, Captain Rohit Kapahi, as saying.
"We sincerely apologise to the nation and our passengers. This extreme step was taken as we were pushed into the corner," he added.
On Tuesday, the pilots decided to call off their strike after the Air India management told the court that it would consider the demands of the pilots "sympathetically".
The pilots have been protesting against a decision to train pilots from Indian Airlines, which merged with Air India in 2007, to fly the Dreamliners.
Air India pilots say that as the planes were ordered before the merger, they should be given priority for training.
The airline is severely in debt - earlier this year the government approved a debt-restructuring plan worth nearly $6bn (£3.8bn).