India court boost for Mayawati in wealth case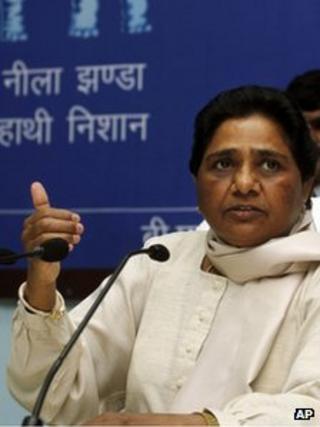 India's Supreme Court has dismissed a corruption case against Mayawati, the controversial low-caste Dalit leader.
The case alleged that Ms Mayawati had amassed massive wealth disproportionate to her known income.
The court said there was "no material evidence" against her and ordered the Central Bureau of Investigation (CBI) to stop investigating the charges.
Ms Mayawati has welcomed the order. She has always said that the case against her was "politically motivated".
She is one of India's richest politicians with assets valued at $22.35m (£14.2m).
From her humble beginnings of a government school teacher, she has had a meteoric rise over the last three decades.
Until recently, Ms Mayawati was chief minister of Uttar Pradesh, one of India's least-developed states. She is now an MP from the Rajya Sabha - the upper house of parliament.
According to information provided by Ms Mayawati in March, she owns a sprawling bungalow in Lucknow city valued at $3.14m.
She also owns jewellery and diamonds worth $193,583 and a revolver worth $108.
Ms Mayawati is famous for building statues of herself and other Dalit icons.
A large numbers of statues commissioned by Ms Mayawati can be seen in Lucknow and elsewhere in Uttar Pradesh.
In September, leaked US diplomatic cables said Ms Mayawati had sent an empty private jet to fetch a pair of sandals from Mumbai - a charge she strongly denied.
She is an icon to millions of Dalits (formerly known as Untouchables), most of whom are poor.