Indian athlete Pinki Pramanik wins bail in rape case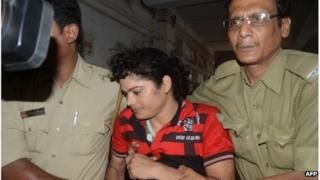 Pinki Pramanik, a female athlete arrested on charges of rape and claims that she is actually male, has been granted bail by an Indian court.
She was arrested in West Bengal state last month after a complaint from her live-in partner, who is a woman.
Ms Pramanik, who won several medals for India, denies all the charges.
Human rights groups protested against the "mistreatment" of Ms Pramanik after she was escorted by male police and forced to undergo gender tests.
A mobile phone video of Ms Pramanik undergoing the tests has allegedly been posted on the internet.
'Crying inconsolably'
"The district judge has released Pinki on bail. We'll have to submit a 5,000-rupee [$90; £58] bail bond. There is some legal paperwork to be done so we won't be able to get her out of jail today. Tomorrow Pinki will come out," Ms Pramanik's lawyer Tuhin Roy told BBC Bengali's Amitabha Bhattasali.
Earlier on Tuesday, the athlete was visited by a team from the state women's commission.
"Police and jail authorities have definitely violated her rights," commission chairperson Sunanda Mukherjee told our correspondent.
"They have mentioned Pinki as a male in the documents. She was being harassed by policemen repeatedly. How can the police decide whether Pinki is a male when the medical report is yet to come? When we met her, she was crying inconsolably."
Ms Pramanik won gold in the 4x400m relay in the 2006 Doha Asian Games and a silver in the same event at the 2006 Melbourne Commonwealth Games.
She also won three gold medals in the 2006 South Asian Federation (SAF) Games in Colombo when she won the 400m, 800m and 4x400m relay events.