India's Yuvraj Singh writes memoir on cancer battle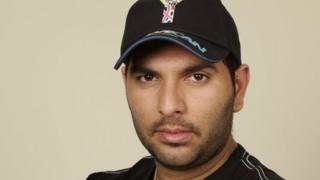 Cricketer Yuvraj Singh is writing a memoir about his fight against cancer titled In Different Form.
"From the World Cup to cancer, the last two years have taught me a lot," the cricketer said. The book is due for release in December.
The 30-year-old is recovering from a rare form of cancer, called mediastinal seminoma.
He underwent three months of treatment in the US earlier this year and is expected to resume his career soon.
"If I think of it, my life is full of words beginning with C. I was born in Chandigarh, I became a cricketer, and through my decade as an international cricketer all I craved, along with the rest of the India team, was the Cup… This story, though, is about the new C in my life. It is the story of my cancer," Yuvraj said at the book announcement.
'Deal with God'
The book will be published by Random House and their press release says it will be "open, candid and intimate" and will tell Yuvraj's journey through cancer "from denial and acceptance, from his battle to defeat the disease to the struggles he still faces".
The memoir will also reveal how Yuvraj made a "deal with God" the night before the World Cup.
"Plagued with insomnia, coughing fits that left him vomiting blood and an inability to eat, he made a deal with God on the night before the final to give him the World Cup, and in return God could take anything he wanted," the release said.
During his cancer treatment Yuvraj was inspired by Lance Armstrong's battle with cancer and read his book It's Not About The Bike.
Last week, the star cricketer launched a cancer awareness programme called YouWeCan that will help victims to combat the disease.
Yuvraj played his last international match in November 2011.
He was the man of the tournament in last year's World Cup, helping India win the trophy for the first time since 1983.