Pakistan official Khurshid Khan angry at legal notice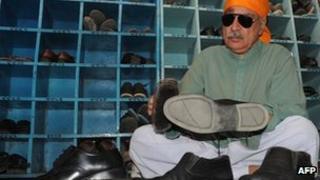 Pakistan's deputy attorney general says he is "ready to resign" after a legal notice was issued asking him to explain why action should not be taken against him for "defaming the country".
Khurshid Khan went to India to polish shoes at Sikh temples as "penance for crimes committed by the Taliban".
But his act has angered authorities in Pakistan and some argue it has damaged Pakistan's image.
He said he will challenge the notice, dismissing it as a "conspiracy".
Pakistan's Supreme Court Bar Association issued the notice to him for his actions but Mr Khan told the BBC his actions would "improve the image of Islam and Muslims".
"On the one hand there is Ajmal Qasab who attacks India and is proven to be a Pakistani Muslim and on the other hand there is Khurshid Khan who's doing religious services to improve the image of Islam and Muslims in India," Mr Khan said, referring to the lone gunmen convicted in the 2008 attacks on Mumbai.
"How can they term it a disgrace. I will fight this head on," he added.
He also said he has regularly performed such voluntary acts of penance over the past two years.
The deputy attorney general lives and works in the north-western Pakistani city of Peshawar.