India presses US after navy kills fisherman off UAE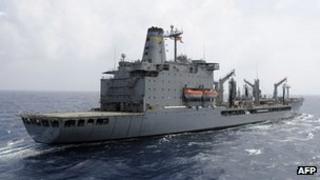 India says an investigation is under way into the killing of one of its fishermen by a US navy vessel off the United Arab Emirates (UAE) coast.
Foreign Minister SM Krishna described Monday's death as "unfortunate" and said the matter had been taken up with the United States.
The US embassy in Delhi said USNS Rappahannock fired after the vessel ignored warnings and came too close.
Three Indian fishermen were also wounded in the firing incident.
'Rapid approach'
The fishermen were in a small boat off the coast of Dubai, when the US navy ship fired on them on Monday.
The dead man was from the southern Indian state of Tamil Nadu, as are his wounded colleagues.
"Our embassy in Abu Dhabi is working with local authorities to carry out a full investigation into the circumstances leading to this unfortunate and tragic incident. The acting consul general is in Jebel Ali to provide all necessary assistance," the Indian foreign ministry said in a statement .
One of the injured fishermen, speaking to Reuters news agency from hospital in Dubai, said they had not been aware of any warnings.
"We had no warning at all from the ship, we were speeding up to try and go around them and then suddenly we got fired at," Muthu Muniraj, 28, said.
He was shot in the legs during the incident.
"We know warning signs and sounds and there were none. It was very sudden. My friend was killed, he's gone. I don't understand what happened."
The US embassy in Delhi also issued a statement on Tuesday "to convey its condolences" to the families of the crew.
After "the vessel disregarded non-lethal warnings and rapidly approached the US ship", the security team on the Rappahannock fired rounds from a .50-calibre machine gun, fearing the boat was a threat, US defence officials said.
The US is conducting its own investigation into the incident.
There were concerns of a repeat of the suicide attack 12 years ago on the destroyer USS Cole in which a small boat was used, the US officials added.
Monday's incident follows the killing of two Indian fishermen in February off India's southern coast by Italian marines guarding an oil tanker. The marines said they mistook the fishermen for pirates.
Two Italian marines have been charged with murder and are on trial in India and the incident has caused a diplomatic row between the two countries.