India editor resigns over Assam girl assault video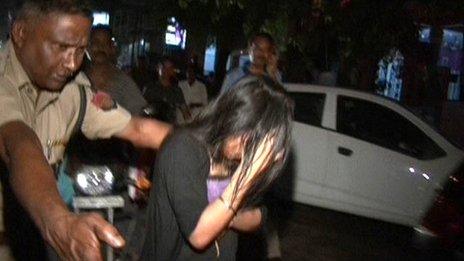 The editor of a television channel, which first aired the video of a mob molesting a teenage girl in India's northeastern Assam state, has resigned over the broadcast.
Atanu Bhuyan said he was under "huge mental pressure for the last few days".
Police in the state capital, Guwahati, said they were still looking for the main accused in the assault, which took place last Monday outside a club.
So far, eight people have been arrested in connection with the incident.
Police say the main accused - an actor who played a policeman in a recent Assamese television serial - is absconding and "has fled to the neighbouring state of Meghalaya to evade arrest".
"We have sought help from the Meghalaya police to arrest him," a senior police officer in Guwahati told the BBC.
Assam Chief Minister Tarun Gogoi, who met the girl on Monday night, said his government will "help her in all possible ways" to rehabilitate her.
Meanwhile, India's National Commission for Women has fired one of its members, Alka Lamba, who had been sent to Assam to investigate the case, after she was criticised by women's groups for naming the victim at a press conference.
Gauravjyoti Neog, the journalist who filmed the girl's ordeal, has also resigned to facilitate a "fair investigation" after facing allegations of voyeurism.
There has been outrage in India after footage emerged showing a large group of men passing the girl between them, trying to remove her top.
The incident has so angered residents of Guwahati that some have put up a billboard in a busy city area, demanding tough action against those involved.
Assam has a high rate of crime against women - a shocking 36.9 per 100,000 a year - against the national average of 18.9.