India's Outlook dubs Obama 'underachiever' after Time cover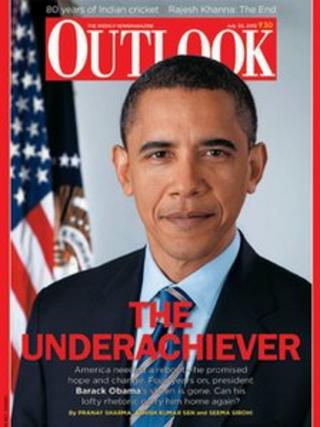 An Indian magazine has dubbed US President Barack Obama "the underachiever" on its latest cover, two weeks after US-based Time magazine did the same to India's prime minister.
Time magazine's cover labelling Manmohan Singh as "the underachiever" prompted heated debate in India.
Using Time's words on Mr Singh, Outlook reads: "America needed a reboot".
Outlook's editor denied the cover was a "tit-for-tat" response to Time or an expression of support for Mr Singh.
But the words on the cover of the magazine reads: "He promised hope and change. Four years on, President Barack Obama's sheen is gone. Can his lofty rhetoric carry him home again?"
Time on its cover had asked a similar question: "India needs a reboot. Is Prime Minister Manmohan Singh up to the job?"
India's government has recently come under heavy criticism for what many are calling "policy paralysis".
'Focus on Obama'
Outlook's editor told the BBC that they had been "planning an Obama cover for a long time" and that it was "not tit-for-tat" journalism.
"Our focus is not Time magazine. Our focus is Mr Obama.
"We are trying to do the American election in a slightly different way. We are trying to take a long, hard look at Obama and his performance in the last four years," Krishna Prasad says.
Mr Prasad said their story was about "Mr Obama's performance vis-a-vis India, the world and within America".
"Frankly, if you view him with an Indian eye, or a non-American eye, you will understand that just as Manmohan Singh comes across as an underachiever, Barack Obama, for all his hype and expectation, he too come across as an underachiever, whether you like it or not."
Mr Prasad rejected criticism that Outlook was trying to defend the government.
"We are not saying that Time was wrong in calling Manmohan Singh an underachiever. I do think he is an underachiever, but I think you can make the same charge about Obama.
"Some day later, we may say something about David Cameron. We look at the world in a very dispassionate way, like the BBC," Mr Prasad said.