Violence-hit Maruti plant in India remains shut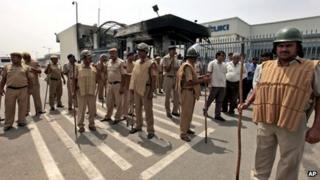 The troubled Maruti Suzuki plant in India's Haryana state has remained shut for the second day on Friday following Wednesday's violent clashes that left a company official dead and 85 injured, including two Japanese citizens.
The Japanese embassy condemned the "vandalism" and called for "just punishment" to the guilty.
Police say they have arrested 91 people and more arrests are likely.
Violence at the Manesar plant follows months of difficult labour relations.
The factory has been hit by a series of strikes since June 2011, when workers went on a 13-day strike demanding the recognition of a new union.
A Maruti spokesman told the BBC the factory would remain shut on Friday.
He said the company was assessing the damage and would shortly announce its decision on "resuming operations".
The factory has been secured by the police and several hundred policemen are guarding it. The state authorities have ordered an inquiry.
Meanwhile, Japan has demanded strict action against those guilty of violence.
"We strongly hope that the state of Haryana would administer, according to law, prompt and just punishment to the perpetrators and effectively enforce law and order so that such (incidents) would not be repeated in the future," AFP quoted from a Japanese embassy statement.
The company employs more than 2,000 people and produces more than 1,000 of Maruti's top-selling cars every day, accounting for about a third of its annual production.
Maruti Suzuki, a joint venture between Maruti and Japan's Suzuki Motor Corporation, has a 50% share of India's booming car market.