India's Assam issues 'shoot on sight' orders amid violence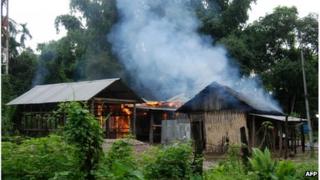 Security forces in India's Assam state have been given "shoot on sight" orders amid violence that has killed at least 21 people.
The move follows fierce fighting between indigenous tribespeople and Muslim settlers in Kokrajhar and Chirang districts.
More than 60,000 people have fled their homes for relief camps.
There have been tensions between indigenous groups and Muslim Bengali migrants to Assam for many years.
After the latest outbreak of violence, an indefinite curfew was imposed in the worst-affected Kokrajhar district.
"The situation is very tense. Both Bodos and Muslims are setting fire to each other's homes. People are fleeing homes as rumours of rioting are spreading. The paramilitary forces have had to fire to control mobs in some areas, and the army has also been deployed," Kokrajhar district commissioner Donald Gilfellan told the BBC.
Police say that the clashes began when unidentified men killed four youths on Friday night in Kokrajhar district, an area dominated by the Bodo tribe.
They say that armed Bodos attacked Muslims in retaliation, suspecting them to be behind the killings.
Soon afterwards unidentified groups set houses, schools, and vehicles ablaze, police said, firing indiscriminately from automatic weapons in populated areas.