Why India's boxers pack a punch at London 2012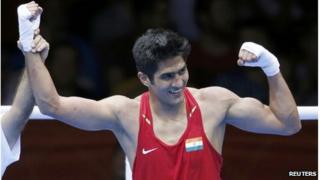 India won its first individual gold medal only in 2008 at the Beijing Olympics, but all that may change at London 2012 where a number of Indians are serious contenders, reports the BBC's Sanjoy Majumder from the town of Bhiwani in northern Haryana state.
Inside a large, dusty hall, around 50 to 60 young boys and girls throw punches in the air, their eyes screwed in concentration, as their balding coach barks orders.
Some of the children are as young as nine.
Welcome to the BBC - the Bhiwani Boxing Club, India's boxing nursery.
Several hundred boxers train here every day. Most of them come from the surrounding villages, mostly from poor families - others still further afield.
"My parents made me take up boxing to make something of myself," says Vinod, aged nine.
"I hope that I can make my family proud. My dream is to win an Olympic gold medal one day."
It is an unlikely setting for a boxing academy.
Boxing capital
Bhiwani is a few hours drive from the Indian capital Delhi but is predominantly rural. Just outside the boxing club, women draw water from a well while farmers till the land.
To understand why this has become India's boxing capital, you only have to travel a few hours north - to Patiala and India's elite National Institute of Sports.
This is where India's Olympic qualifiers train.
Inside the main boxing facility and in front of a mirror, the country's most famous boxer goes through his routine, skipping and punching in the air.
Vijender Singh also comes from Bhiwani, from the same dusty academy - but in 2008 he became a national hero when he won a bronze medal in Beijing.
"Everything changed for me after Beijing," he says.
"When I landed at Delhi airport there were so many media persons, a massive crowd. I am recognised and respected wherever I go."
He is also rich, endorsing big name brands such as Nike and Nestle and making regular appearances on reality television shows and Bollywood parties.
The fame apart, the biggest gain has been in the confidence his victory has generated.
"After Beijing, India's attitude changed," says the country's Cuban-born boxing coach, Blas Fernandez.
"They always had the talent but now they believe they can beat anyone, the Cubans, the Russians," he adds.
One of the young promising boxers is Vikas Krishan, who competes in the 69-kg category.
Tall, lithe and muscled, he is only 19 but is confident to the point of cockiness.
"Earlier everybody used to think they could beat us easily. But now they pray to God that they don't face us in the early rounds.
"It is because we have become a boxing powerhouse," he says.
Medal hopes
With just one Olympic bronze, that may be an idle boast. But in the past few years, India's boxers have picked up medals at the Asian and Commonwealth Games and also at the World Championship, where Krishan won a bronze medal.
Back in Bhiwani, I visit Vijender Singh's family.
It is easy to spot his house - the largest in the lane with a huge front yard.
Inside, pictures of the boxer adorn every wall while a glass shelf displays all the cups and medals he has won over the years.
"Since his Beijing victory, five more boxing clubs have sprung up and around 5,000 children have taken up the sport," says his father, Mahipal Singh.
"On the day of his first bout in London, most of the villagers will come to our house and watch the match with us. And if he wins, the celebration will be grand," he says, breaking into a smile.
Bhiwani's boxing lovers will be joined by the rest of India as the boxers turn out at the Olympics.
Like them, they will cheer along, hoping for more glory and plenty of medals.