Assam Chief Minister Gogoi says state violence easing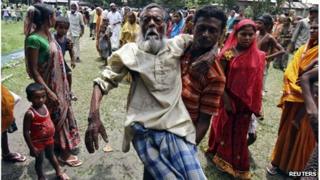 The chief minister of India's Assam state has said violence there has lessened, even though the death toll in fighting has risen to 44.
Tarun Gogoi said the situation "though not completely normal was improving".
More than 170,000 people have fled their homes after fighting between indigenous Bodo tribes and Muslim settlers in Kokrajhar and Chirang.
Security forces have been given shoot-on-sight orders and a curfew has been imposed in the troubled areas.
There has been tension between indigenous groups and Muslim Bengali migrants in Assam for many years.
Trains resume
Prime Minister Manmohan Singh is expected to visit the affected areas on Saturday, the state-run broadcaster Doordarshan News said.
An indefinite curfew is continuing in the worst-affected Kokrajhar district, while a night curfew has been imposed in Chirang and Dhubri districts.
Though sporadic violence continues in Kokrajhar, Mr Gogoi said the situation was easing.
"Assam has 28 districts and there is trouble in only four districts. Does this mean that the entire state is burning?" Mr Gogoi asked.
Though many roads in the affected districts remained closed, train services resumed on Wednesday under heavy security.
Police say that the clashes began when unidentified men killed four youths last Friday night in Kokrajhar, an area dominated by the Bodo tribe.
They say that armed Bodos attacked Muslims in retaliation, suspecting they were behind the killings.
Soon afterwards unidentified groups set houses, schools and vehicles ablaze, police said, firing indiscriminately from automatic weapons in populated areas.