London 2012: Why India is upbeat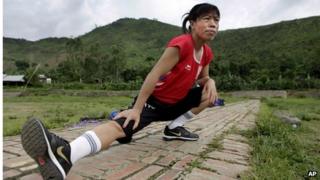 There is a marked changed in the psyche of the Indian sportsmen and women who are participating in the London Olympic Games.
Gone are the days when the Indians made up the numbers and were content with making a trip to the Olympics. The word "Olympian" figuring in their business cards was not uncommon.
But the mindset has now changed from wanting to be an Olympian to wanting to be a medallist.
This current contingent of 81 athletes - 58 men and 23 women - includes a clutch of world-class athletes, who have either won medals at previous Olympics, Asian or Commonwealth Games, World Championships or World Cups or at the highest level in their respective sport, be it Grand Slams in tennis or Super Series events in badminton.
At London, India has medal prospects in at least six disciplines - archery, boxing, badminton, shooting, tennis and wrestling.
There is also hockey, but that is more of an emotional attachment, than a medal hope.
Medal drought
This is indeed a marked change for India compared with previous Olympic Games.
Apart from the eight gold, one silver and two bronze in hockey between 1928 and 1980, India had just one other medal at the Olympics - a bronze in wrestling in 1952.
Then from 1984 to 1992, there were NO medals.
From 1996 to 2004, there was one medal at each Games - a tennis bronze from Leander Paes in 1996, a weightlifting bronze from Karnam Malleswari in 2000 and a shooting silver from Rajyavardhan Rathore in 2004.
Things however changed dramatically in Beijing in 2008.
There were not only three medals - a gold from Abhinav Bindra in shooting and bronze from Vijender Singh in boxing and Sushil Kumar in wrestling - but a whole lot of others came within hand-shaking distance of medals.
As heartening as the medals was the performance of the two boxers, Jitender Kumar and Akhil Kumar, who reached the quarters, as did Saina Nehwal in women's badminton and the Leander Paes-Mahesh Bhupathi combine in men's tennis. Wrestler Yogeshwar Datt, too, also lost in the quarters. Each one of them was capable of winning a medal.
So, how did things change?
For one, there is a change in mindset.
Two, the government has been more liberal with foreign exposure trips - though they are misused sometimes - and there is definitely more federal funding for sports.
'Sign of confidence'
Shooter Bindra, for example, refuses to live in the past.
"The past has no bearing. I won a gold four years ago in two hours of shooting. That is over and done with. What happened in the past is past," he says, clearly indicating he wants one more here.
Vijender Singh, one of the most popular non-cricketing sports stars in India, says: "Boxers and others talking about medals are not boasting or bragging. It is a sign of their confidence."
But most importantly there has been exponential growth in private organisations and foundations backing Indian sport.
The Olympic Gold Quest was started by legendary billiards player Geet Sethi and badminton star Prakash Padukone, and now has Paes and world chess champion Viswanathan Anand on its board of directors.
Then there are organisations like the Mittal Sports Foundation (started by steel magnate Lakshmi Mittal), which has supported Indian boxers, archers and shooters among others. Other well-known organisations include Go Sports Foundation and Lakshya.
Add to them sponsors like Monnet, Tatas, Sahara and Samsung who have had the courage to look beyond cricket. Together, they have helped Olympic sports in India.
Sure there will still be no torrent of medals. But the results from London 2012 will certainly be better than 2008.
In the end, there is very little difference between the medallists and the next two or three athletes, but if current form and world rankings are any indicators, there will be a lot of Indians in the top six at these Games.
Archer Deepika Kumari, for one, is world number one among women and the Indian team holds the number two ranking, though the Koreans and the Americans start as favourites.
Champions
In badminton, Saina Nehwal, world number four has been as high as number two once, and has recently won two big events in the presence of Chinese world-beaters. And Jwala Gutta and Ashwini Ponappa won a women's double bronze in the World Championships in London in 2011.
Moving into boxing, welterweight Vikas Krishan, world number four until a few weeks ago, is a World Championships bronze medallist, while two other boxers figure in the world's top 12 in their weight category.
Vijender Singh, bronze medallist in Beijing, has also won gold medals in the Asian and Commonwealth Games and a bronze in 2009 World Championships, and he was ranked number one in the world in his weight until a couple of years ago.
India's lone woman boxing representative, MC Mary Kom, has the most impressive resume in world boxing with five world titles and she comes to London as women's boxing makes it debut this year.
Shooting hopes include the 2008 Olympic gold medallist, Bindra; multiple medallist at Asian and Commonwealth Games and World Cup winner, Gagan Narang, besides double trap shooter, Ronjan Sodhi, who still has a share of the world record in his event.
Manavjit Sandhu, trap shooter, is also a former world champion. They have all been ranked in world's top three at various times.
Wrestler Sushil Kumar is a former World Champion besides winning Asian and Commonwealth Games gold. He also has an Olympic bronze from 2008. The other wrestlers, Yogeshwar Datt, Amit Kumar and Narsingh Yadav, too, have medals at Asian and Commonwealth Games.
Paes and Mahesh Bhupathi, have both been number one in tennis doubles rankings separately and together. They may now seem a bit past their best, but are still capable of pulling off a stunner. Paes' pairing with Sania Mirza in the 16-team mixed doubles offers India the best hope of a tennis medal.
The Olympic spirit continues, but now India has a desire and hunger greater than ever before for medals too.
V Krishnaswamy is a senior Delhi-based sports journalist.