India's millennium city Gurgaon a 'slum for the rich'?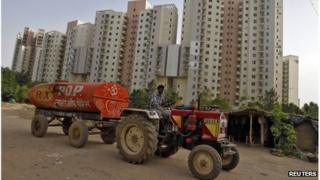 The Dutt family lives in a palatial mansion in the posh suburbs of Gurgaon on the outskirts of Delhi.
It all has all the trappings of luxury, but that's until one turns one's gaze towards the kitchen.
The supply of drinking water is about to stop in the next 10 minutes and homemaker Beena Dutt is rushing to fill dozens of empty bottles lying around the kitchen.
Outside, husband Hari Krishna Lal Dutt is thanking his stars that there isn't a power outage.
"When there is power, there is no water supply and vice-versa. Times like this are rare when there is simultaneous water and power supply to back up the water purifier."
The Dutts are one of the many affluent families in Gurgaon who have to buy water for bathing and washing clothes and utensils.
Shambles
They spend close to $200 (£130) a month on buying water from a private tanker, and they have invested in a back-up generator. But that still doesn't help during prolonged - 10- to 12-hour - power cuts that are common here.
Home to scores of top multinational firms, expensive condominiums, a world-class golf course, five-star hospitals and glitzy malls, Gurgaon in northern Haryana state is popularly called India's Millennium City.
Proximity to Delhi's airport makes it an attractive residential destination for upwardly mobile professionals.
That is where the good news ends.
Infrastructure is in a shambles: electricity is infrequent and erratic, groundwater is declining at an alarming rate, and the sewage system and roads are decrepit. There aren't enough policemen to secure the burgeoning population.
"Gurgaon doesn't have the right to call itself the millennium city. It has failed us," frets Mr Dutt. It's a sentiment echoed by most of the residents.
Take water, for example.
A whopping 70% of the residents are dependant on ground water, which is being indiscriminately extracted despite restrictions.
Things are so alarming that the federal ground water authorities have warned that the water table will be completely depleted by 2017.
The sewage situation also looks dire.
Delhi's Centre for Science and Environment (CSE) believes that by 2021, Gurgaon's estimated 3.5m people will produce so much waste that the city will be drowning in its own sewage.
Demand for electricity in the city has climbed to 1500 MW, thanks to a 15% yearly surge since 2004.
But generation is barely half of the demand thanks to under-performing thermal power stations, power theft and a debt-stricken state-run electricity board.
Lack of electricity means that the majority of the high-rises, malls and commercial complexes are run on diesel-power generators which in turn end up polluting the air.
'Scary picture'
That's not all. One of India's richest cities is also hobbled by poor transport links.
A 32-lane expressway links it to Delhi, but a badly run and painfully slow toll collection system means regular massive traffic jams.
The extension of the Delhi metro railway to the city has come as a respite to residents, but public transport remains scanty. Auto rickshaws freely fleece passengers in absence of metered fares.
Crime in Gurgaon is also on the rise - car thefts, car-jackings and burglaries are commonplace. With a woeful police-to-people ratio of 1:1000, this is not surprising.
"Gurgaon presents a scary picture," says CSE's Anumita Roychowdhury.
"A city is usually built on a futuristic master plan. But in Gurgaon's case, massive construction was allowed to take place even before the authorities could bring up the required infrastructure to keep pace with the development."
Planners and architects blame the "unholy nexus" between private developers and the authorities for the mess in Gurgaon.
But builders say that they paid millions of dollars to the state authorities to develop the infrastructure while the city was growing, but it was misused.
'Bad model'
"Unfortunately in India, infrastructure doesn't precede development. That is why one feels that Gurgaon and many upcoming Indian cities are a failure. India needs sustainable urbanisation, " Lalit Jain, chairman of the Confederation of Real Estate Developers' Association of India said.
Authorities say all is not lost.
"The gap between development and infrastructure in Gurgaon is not unbridgeable. Gurgaon still has the potential to be one of the best cities in the world," says Praveen Sharma, a senior Gurgaon official.
But planners believe Gurgaon is already a failed example of how a modern Indian city should be built and run.
"Gurgaon can never set an example for the future cities of India," says Ms Roychowdhury.
"In fact, it's an example of how not to plan a city."