India couple finally have baby after 17 miscarriages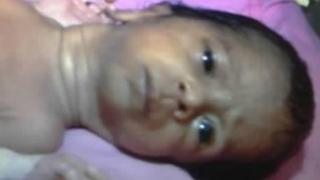 An Indian couple in Rajasthan state finally became parents to a baby girl on 6 July after suffering 17 consecutive miscarriages.
"You cannot imagine our happiness," said the father, Ramkishore Meena, who works as a day labourer.
News of the baby was released only after doctors in Jaipur city said she was in good health following complications after the birth.
She is now "under our observation," said paediatrician Dr Dhanjay Mangal.
"When some complications developed, the baby was brought to my hospital and we are treating her, she is now in good condition," said Dr Mangal.
Family members of the couple who live in a small village about 135km (83 miles) from Jaipur are also overjoyed at the news.
"It does not matter whether it is a son or a daughter, we are so happy they have been blessed with a baby," said Ramdev, the baby's uncle.
"We were so excited about becoming parents, but our hopes were dashed every time," says Mr Meena.
"We offered prayers every time my wife was expecting, but my wife suffered premature deliveries when the seventh month approached."
He said she now felt "happy and confident" after having the baby.