India allows dismantling of Alaska tanker Exxon Valdez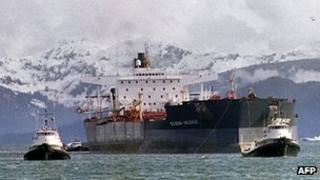 India's Supreme Court has allowed the giant tanker Exxon Valdez, which was involved in one of the world's worst oil spills, to be dismantled at a ship-breaking yard in Gujarat.
The judges said the Gujarat Maritime Board and the Atomic Regulatory Board had certified that the ship contained no hazardous material.
The ship, now known as the "Oriental Nicety", entered Indian waters in May.
The court then said it would not be allowed in until it was decontaminated.
In its order on Monday, the Supreme Court said "if any toxic wastes embedded in the ship structure are discovered during its dismantling", the ship owner then must pay for their disposal.
The Exxon Valdez caused devastation when it ran aground in Alaska in 1989, spilling 11m gallons of crude oil.
US officials say about 1,300 miles (2,080km) of ecologically sensitive coastline in Prince William Sound were contaminated in the disaster. Tens of thousands of seabirds, otters and seals were killed.
The Exxon Valdez was bought recently by the Hong Kong-based subsidiary of an Indian shipbreaking firm who want to dismantle it at Alang, the hub of India's ship-breaking industry.