India: Pune blasts 'planned and coordinated'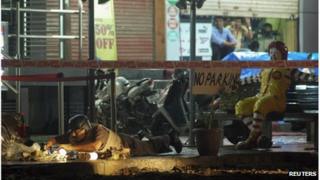 India's home secretary has said Wednesday's series of bomb blasts in the western city of Pune were a "planned and coordinated" act.
RK Singh said forensic experts were examining two unexploded devices and looking for clues.
The "low intensity" explosions went off within minutes of each other, injuring one person.
In 2010 a bomb attack on a popular bakery in Pune killed 17 people and injured more than 50.
Wednesday's blasts came on the day India's new Home Minister, Sushilkumar Shinde, took up his post.
Although the Pune police said the blasts appeared to be the work of a "mischief-maker", federal authorities said a terror attack could not be ruled out.
"Since the blasts have taken place within an area of 500 metres and within a span of 45 minutes, it appears to be a coordinated act. I am sure there was a plan behind it," Mr Singh was quoted as saying by the Press Trust of India news agency.
He said federal investigators were examining the two unexploded devices which were found on the busy Jangli Maharaj Road area, where the blasts occurred.
"There are three detonators in each [of the devices]. Investigation is on. We are making progress," he said.
Reports in the media say that ammonium nitrate was used in the small bombs which had been placed in confectionery boxes.
One of the bombs went off outside a McDonalds fast food restaurant, two near a theatre and another near a bank, police said.