India Haryana minister Gopal Kanda quits amid scandal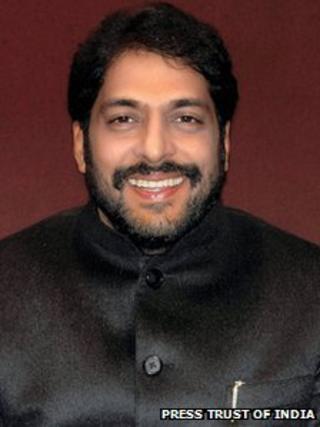 A minister in India's Haryana state has resigned after a former female employee apparently killed herself having accused him of harassment.
Junior home minister Gopal Kanda quit on Sunday night. Hours earlier Geetika Sharma, 23, reportedly hanged herself at her Delhi home, blaming him for "ruining her life" in a suicide note.
Police have registered a case against Mr Kanda of "abetment to suicide".
Mr Kanda denied the charge and said he had no direct link with Ms Sharma.
"I don't know why she has done it. I feel sad for her. She was a good employee," The Indian Express newspaper quoted him as saying.
"I have full faith in the law. I am confident I will come out clean after investigations."
Ms Sharma, a former cabin crew member with the now defunct MDLR airline, was working as an executive director of the company. She quit her job about a month ago.
In her two-page suicide note, she is reported to have accused Mr Kanda and an MDLR manager, Aruna Chadha, of betraying her trust and cheating several people.
Meanwhile, opposition parties in Haryana have held protests, demanding the immediate arrest of Mr Kanda.