India set for biggest medal haul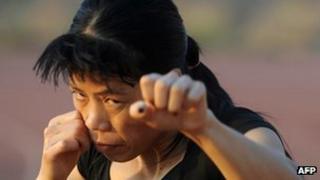 India is set to gain its best ever haul of Olympic medals with boxer MC Mary Kom in the women's boxing semi-finals.
This ensures she will win at least a bronze medal.
Mary Kom's bronze will be India's fourth medal at London 2012, which is higher than the previous best of three medals at the Beijing Games.
Badminton champion Saina Nehwal and shooters Gagan Narang and Vijay Kumar have already won medals, Kumar taking silver, and Nehwal and Narang bronze.
On Monday, Mary Kom defeated her Tunisian rival Maroua Rahali to score an emphatic 15-6 win in the quarter-final to ensure a medal for India in the inaugural edition of women's boxing.
"I am very happy. I have been dreaming of an Olympic medal and now I am ready'," said the five-time world champion.
"Thank God. I will try to reach the final, and then let's see."