India boxer Mary Kom set for semi-final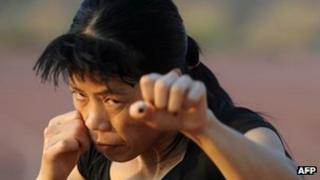 Indian boxer MC Mary Kom is set to take on Britain's Nicola Adams in the women's boxing Olympic semi-finals.
This ensures she will win at least a bronze medal at the London games.
Excitement is running high in India over the 29-year-old, five-time world champion boxer, who comes from the remote north-eastern state of Manipur.
Mary Kom's bronze will be India's fourth medal at London 2012, which is higher than the previous best of three medals at the Beijing Games.
Women's boxing is making its Olympics debut at London but that is not the only reason Mary Kom is making history, says the BBC's Sanjoy Majumder in Delhi.
The mother of twin boys is tiny - just over 5ft with small shoulders - but her punch is lethal.
She is is fighting in a higher weight category than she is used to, which means most of her opponents are much bigger than her.
Manipur, her home state, is on the Burmese border and in one of India's most neglected regions.
It is home to violent insurgents and drug traffickers and has tasted little of the development that the rest of India has.
Even her features are more Asian than Indian and many in her own country think she comes from China or Thailand.
But Mary Kom is role model in Manipur and many are hoping she will help put her state and India more firmly in the limelight.