India yoga guru Baba Ramdev launches protest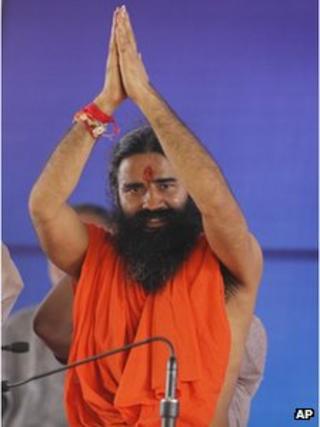 Indian yoga guru Baba Ramdev has launched an indefinite anti-corruption protest in the capital, Delhi.
The yoga guru says he is campaigning for the recovery of suspected bribe money allegedly held overseas.
He is also demanding strong anti-corruption laws and more autonomy for government's investigation agencies.
Baba Ramdev has millions of supporters and his daily television programme is eagerly watched by millions of people across India.
Last June he held a nine-day anti-corruption hunger strike before the police evicted him from Delhi.
His latest protest - attended by several thousand people - is being held at the Ramlila ground in Delhi, the venue of his protest last year which was attended by thousands of supporters.
"We are not here to replace any political party. We don't have a political agenda. Our only concern is ending corruption in country," Baba Ramdev said.
In June this year, the yoga guru joined leading campaigner Anna Hazare to undertake a day-long fast in protest against corruption.
Last week Mr Hazare called off an anti-corruption hunger strike after announcing plans to enter politics.
The government has proposed setting up fast-track courts to deal with the two contentious issues of illegally deposited money overseas and tax evasion.
The chief of India's federal investigation agency CBI has said that Indians have illegally deposited an estimated $500bn (£319bn) in foreign tax havens.