India PM Manmohan Singh urges economic investment boost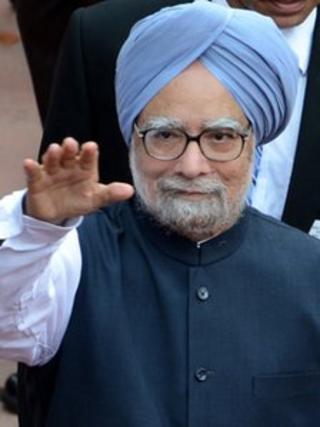 Indian PM Manmohan Singh has said urgent steps must be taken to boost the country's ailing economy.
In a speech marking Independence Day, he said growth should be regarded as a matter of national security, and promised to make it easier for foreign companies to invest in the country.
India's economy expanded at an annual rate of 5.3% in the first quarter - the slowest pace in nine years.
Mr Singh confirmed plans to send an Indian spacecraft to orbit Mars.
Media reports suggest that the mission will cost more than a $100m (£640,000), and the unmanned spacecraft will be launched in November next year.
Critics say the government should focus its resources on alleviating poverty and developing infrastructure.
'Encourage investment'
Amidst fears that growth of the Indian economy may slow further in the near term, Mr Singh said he expected growth this fiscal year to be "a little better" than last year's 6.5% - an estimation higher than recent projections of 5.5%.
In a televised speech, he said India "cannot do much about the conditions that prevail outside our country... But we must make every effort to resolve the problems inside our country so that our economic growth (is)... again speeded up".
The Indian government would "leave no stone unturned to encourage investment", he said.
"To attract foreign capital, we will have to create confidence at the international level that there are no barriers to investment in India."
Foreign companies wishing to invest in India have frequently complained of being held back by red tape and corruption.
Mr Singh said a domestic environment also needed to be created to ensure rapid growth and shield the economy from the global slowdown.
"We are not being able to achieve [the environment]... because of a lack of political consensus on many issues. Time has now come to view the issues which affect our development process as matters of national security."
Mr Singh said the government had taken measures to improve infrastructure, and deal with a deficient summer monsoon, which had led to drought like conditions in some states.