India court seeks information on missing children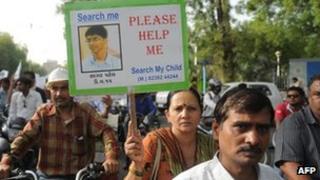 India's Supreme Court has ordered the federal and state governments to provide information on 55,000 missing children in the country.
The court is hearing a petition filed by a lawyer which claims the government has "failed to trace" the children.
The petition said children were being bought and sold for "illegal acts and sexual exploitation".
Child rights organisations claim that thousands of children disappear in India every year.
The petition blames the states for failing to solve the kidnapping and trafficking of these children by organised gangs.
A recent report by the child rights organisation Bachpan Bachao Andolan, said nearly 11 children go missing in India every hour and at least four of them are never found.
Based on the findings, the group estimates that the total number of children who go missing every year in India could be as high as 96,000.