India blames Pakistan for exodus of migrant workers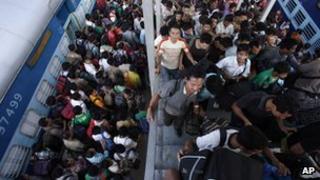 Threatening messages sent by mobile phone and over the internet that triggered an exodus of migrant workers from southern Indian cities mostly came from Pakistan, Indian officials say.
Some 30,000 people have fled the cities of Bangalore and Mumbai in recent days.
They come from indiginous communities in the far north-eastern state of Assam, where there has been fighting with Muslim communities.
The messages threatened revenge attacks against them by Muslims.
"The bulk of these messages, of these clips, have their origin in our western neighbour, in Pakistan," Indian Home Secretary RK Singh said.
"That's what our agencies have discovered - that the bulk of these have been uploaded in various websites in Pakistan."
He said India would protest to Pakistan but gave no further details about who may have sent the messages or posted the images.
There has been no official reaction from Pakistan.
At least 78 people have died and more than 300,000 have been displaced in clashes in Assam, mainly between the indigenous Bodo tribe and Muslim settlers.
Harmony
On Friday, the Indian government imposed a ban on bulk text messages to try to stop the panic.
Prime Minister Manmohan Singh said those who were fanning the rumours should be punished, saying "communal harmony" was at stake.
"It is the solemn obligation of all of us, regardless of the party that he may belong to, to work together to create an atmosphere when this rumour-mongering will come to an end, that the people of the north-eastern states feel genuinely that any part of our country welcomes them," he told parliament on Friday.
There are 250,000 people from the north-east living and working in Bangalore, which is often referred to as the Silicon Valley of India.
Many of them are students, security guards and workers in the hospitality sector who have migrated to the southern cities in search of better jobs and education.
Extra trains have been provided to allow them to return home.