Pakistan seeks proof of India exodus messages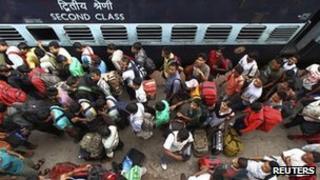 Pakistan has asked India to provide evidence for its claims that threatening messages sent by mobile phone and over the web to migrant workers mostly came from Pakistan.
Thousands of people fled the cities of Bangalore and Pune in recent days.
Officials have blamed the exodus on "rumour mongering" linked to clashes in the north-eastern Assam state.
More than 300,000 people fled after fighting between indigenous Bodo tribes and Muslim settlers in Assam.
Last week's exodus of workers from north-eastern region living in Bangalore, Pune and Mumbai was triggered off by messages threatening revenge attacks against them by Muslims.
Over the weekend, India said the bulk of these messages and video clips had their origin in Pakistan.
India's Home Minister Sushilkumar Shinde told his Pakistani counterpart Rehman Malik to crack down on "elements" who were sending the messages.
"We have no information about this. I requested him [Mr Shinde] to provide evidence in this regard to us and we will take care of it," Mr Rehman told reporters in Islamabad.
On Friday, the Indian government imposed a ban on bulk text messages to try to stop the panic.
At least 78 people have died in clashes between Bodo tribes and Muslims in Assam.
Prime Minister Manmohan Singh said those who were fanning the rumours should be punished, saying "communal harmony" was at stake.
There are 250,000 people from the north-east living and working in Bangalore, which is often referred to as the Silicon Valley of India.
Many of them are students, security guards and workers in the hospitality sector who have migrated to the southern cities in search of better jobs and education.