Geetika Sharma 'suicide': Ex-minister Gopal Kanda probed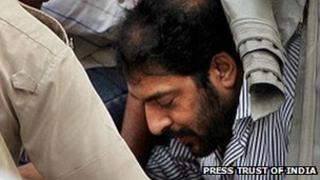 A former minister in India's Haryana state has been questioned in connection with the apparent suicide of a female employee who accused him of harassment.
Geetika Sharma reportedly hanged herself at her Delhi home on 5 August, blaming ex-minister Gopal Kanda for "ruining her life" in a suicide note.
Mr Kanda, who quit his post earlier in August, was arrested over the weekend on charges of "abetment to suicide".
Mr Kanda denies all charges and says he had no direct link with Ms Sharma.
He was placed in police custody over the weekend after a Delhi court turned down his plea for bail.
The police say they have raided Mr Kanda's offices and seized computers and papers.
Ms Sharma was a former cabin crew member with the now defunct MDLR airline, which Mr Kanda owned. She later worked as an executive director in another company owned by Mr Kanda, but quit her post about a month ago.
In her two-page suicide note, she is reported to have accused Mr Kanda and an MDLR manager, Aruna Chadha, of betraying her trust and cheating several people.
Ms Chadha, who has also been arrested, denies the charges.