VVS Laxman: A touch of velvet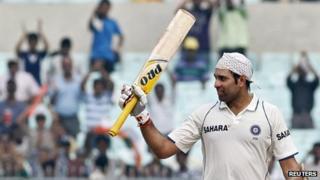 India's VVS Laxman has announced his retirement from international cricket after a 16-year career. Sports writer Suresh Menon reflects on a glorious career.
There was a vulnerability about VVS Laxman's batsmanship, a delicacy, that enhanced the brilliance of his strokeplay.
It made him the most loved of the middle order in India's golden age. Laxman was a throwback to an era of silken batsmanship, of velvet touches and all round grace.
The men around him among the Fab Four of Indian batting, were held in awe; Laxman's apparent fragility made him all too human, and therefore loveable.
People who had never met the man spoke of his gentleness, their opinion based on nothing more than his cover drive or the ability to play the leg glance in the old-fashioned manner.
Defining innings
His greatest fans were within the team. During a 353-run partnership in Australia, Sachin Tendulkar (who made 241 in that innings) said, "I just decided I was going to stay there and watch from the non-striker's end."
It was a vantage point much favoured by his colleagues.
Rahul Dravid said of Laxman's batting during their 376-run partnership in Kolkata which turned a Test match against Australia, "I enjoyed it from the other end. It was like watching a highlights package."
Batsmen like Laxman do not assert their command in averages or in consistent centuries, yet tend to play the defining innings of an era.
That epic innings of 281 against Australia in Calcutta inaugurated the golden age of Indian cricket, and was voted time and again as the best innings played by an Indian.
There is no record of his skipper Sourav Ganguly telling his players, like Bradman did when Stan McCabe was batting at Nottingham, "Come and watch this, you will never see the likes of it again."
But the comparison is not so much with McCabe's batting, as with the fact that even in the Bradman era, the two or three defining innings were played by McCabe.
In the Tendulkar era, Laxman's 281, his 167 against Australia in Sydney, and the 96 against South Africa in Durban were the defining innings.
For someone who played 134 Tests, Laxman, amazingly was never in the running for the captaincy; he was never in a World Cup squad; in his early years he wasn't even a certainty in the team.
That a batsman of such obvious class was often challenged by lesser men and one-Test wonders for a place in the squad was testimony to the short-sightedness of the selectors. Perhaps they equated effortlessness with lack of effort. Everything Laxman did looked effortless - but it shouldn't fool anybody into thinking that he was casual.
Batting came more easily to Laxman than it did to most, but that is not why he is in the Indian pantheon with 8781 Test runs, the fourth highest aggregate behind Tendulkar, Dravid and Sunil Gavaskar.
He takes his place by right as a fully paid-up member of the Wristy Batsmanship Club, one of Indian cricket's two great traditions, the other being spin bowling.
Graceful batsman
To a generation brought up to believe that the product is more important than the process, Laxman might have been an anachronism but for one crucial quality.
Laxman had substance to go with the style. He won matches for India especially late in his career when he made batting with nine, ten and jack into an art form.
As a catcher at slip, Laxman was only a whit behind Dravid his friend and chatting partner in that cordon. Only Dravid, with his world record of 210 catches, has caught more.
These two, along with Tendulkar must take some of the credit for the success of the Indian bowling in the golden era. Fast bowlers knew that edges would be taken, spinners could experiment, confident that even hard slashes would be grasped by the many soft pairs of hands.
For 16 years at the highest level, Laxman personified grace. He was incapable of an ugly stroke. He deserves his rest, his time with the family and the realisation of his final dream - winning the Ranji Trophy, India's premier domestic tournament, for Hyderabad, his native city.
Suresh Menon is Editor, Wisden India Almanack