India to share exodus messages proof with Pakistan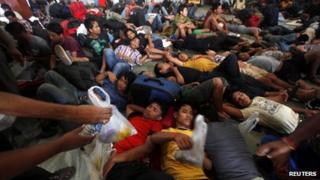 India has said it will share evidence with Pakistan to back its claims that threatening messages and pictures over the web to migrant workers mostly came from Pakistan.
Thousands of people fled the cities of Bangalore and Pune in recent days.
Officials have blamed the exodus on "rumour-mongering" linked to clashes in north-eastern Assam state.
More than 300,000 people fled after fighting between indigenous Bodo tribes and Muslim settlers in Assam.
Last week's exodus of workers from north-eastern India living in Bangalore, Pune and Mumbai was triggered off by messages and images posted on the internet threatening revenge attacks against them by Muslims.
Over the weekend, India said the bulk of these messages, pictures and videos had their origin in Pakistan. Pakistan has asked India to provide evidence for its claims.
India has blocked 245 web pages for "hosting provocative and harmful content" that targeted the people of the north-eastern region, a government statement said.
Indian Home Secretary RK Singh told reporters on Monday that India would share the evidence.
"You do not know who is behind it [the messages and pictures]. To say or to deny that a particular organisation was or was not linked with any one is difficult. But some photographs have names of one or two organisations [in Pakistan]," he said.
At least 78 people have died in clashes between Bodo tribes and Muslims in Assam.
Prime Minister Manmohan Singh said those who were fanning the rumours should be punished, saying "communal harmony" was at stake.