India government appeal to let parliament function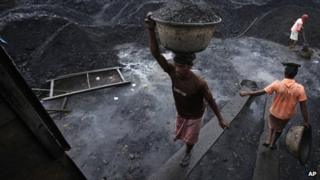 India's government has appealed to the opposition to allow the parliament to function when it meets next week after days of deadlock over a report that the government sold coalfields cheaply.
Finance Minister P Chidambaram said the government was "ready and willing" to debate the issue in parliament.
The report last week said India lost $33bn (£20bn) by misselling coalfields.
Parliament has been deadlocked since Tuesday with the opposition demanding that the prime minister quit.
Although the report by the independent auditor has exonerated Manmohan Singh, the main opposition Bharatiya Janata Party (BJP) is demanding his resignation since he was leading the coal ministry at the time.
Earlier, a senior minister said parliament was likely to remain deadlocked until early next week.
"The opposition - specially the BJP - is unwilling to allow the parliament to function," Mr Chidambaram told a press conference in Delhi on Friday.
'Disappointed'
"The government is willing to debate and discuss any matter in parliament, including the report of the Comptroller and Auditor General (CAG) on coal. The prime minister is willing to participate in the debate and answer any questions that arise," he said.
"We are very disappointed with the opposition's attitude in parliament," the minister added.
The government auditors in their report last week said coalfields were allotted without auction from 2005 to 2009.
But, Mr Chidambaram said coalfields were "allocated by the same procedure by previous governments" and that their government has followed the same policy.
The sale of coalfields has been dubbed as "coalgate" by the angry opposition which has stalled both houses of parliament this entire week.
A number of important bills which were to be taken up during the ongoing session are stuck because of the deadlock.
India is one of the largest producers of coal in the world.
The auditor's report on the sale of coal is the latest in a series of financial scandals to hit the Congress-led government and the revelations have caused anger among the opposition politicians and citizens alike.