Heavy rains in India's Rajasthan kill 36 people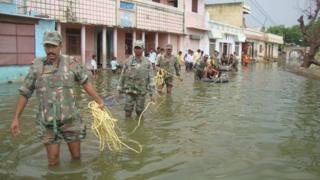 At least 36 people have been killed by incessant rains in the northern Indian state of Rajasthan in the heaviest rainfall in more than 30 years.
The state meteorological department has forecast "very heavy rains" for the next 48 hours in 11 districts.
The army has been called out to help in relief and rescue operations in the worst-hit Jaipur and Sikar districts.
In the state capital, Jaipur, thousands of people have been asked to move out of their homes which are badly damaged.
Authorities said they were in danger of collapsing.
These are the heaviest monsoon rains in the state since 1981 and officials say contingency plans are being made to deal with the flooding and water-logging.
The devastating rains came just two weeks after the state government asked for federal funds of 74.24bn rupees ($1.3bn; £868m) to fight drought conditions in several parts of the state.
In June, at least 27 people died and a million people were forced to leave their homes by floods as rains lashed the north-eastern state of Assam.