India parliament remains stalled over coal scandal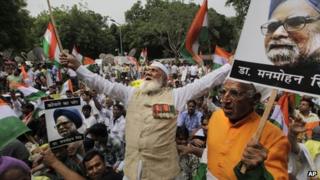 India's parliament has been stalled for the sixth consecutive day over the controversial sale of coalfields by the government.
The opposition BJP has been insisting that Prime Minister Manmohan Singh should quit over a recent report that the country lost $33bn (£20bn) by selling coalfields cheaply.
Mr Singh has rejected the allegation.
A report by government auditors said the coalfields were allotted without auction from 2005 to 2009.
Although the report exonerated Mr Singh, BJP leaders say he must resign as he was heading the coal ministry at the time of the sale.
Mr Singh said on Monday that the findings were "flawed", and that "any allegation of impropriety is without any basis and unsupported by facts".
The chief of the ruling Congress party Sonia Gandhi has backed Mr Singh and has criticised the opposition for holding the parliament "to ransom".
"We have nothing to hide or to be defensive about," she was quoted as telling a party meeting by the Press Trust of India news agency.
Senior BJP leaders say that, if needed, they will stretch their protest to cover the entire monsoon session, due to end on 8 September.
The government says the coalfields were "allocated by the same procedure by previous governments".
The sale of coalfields has been dubbed "Coalgate" by the opposition.
India is one of the largest producers of coal in the world.
The auditors' report on the sale of coal is the latest in a series of financial scandals to hit the Congress-led government, and the revelations have caused public anger.